11th of Magh, 2076
'National Mechanical Engineering Seminar 2020' was held at National Academy for Science and Technology. The program was conducted as a pre-event to upcoming 11th National Mechanical Engineering Seminar 'MechTRIX 2020'. Co-ordinated by Pankaj Mehta side by side with Dipesh Kunwar and Rupesh Dahal, the main motto of this seminar was to provide insights on different topics to young engineering minds. Campus chief, Mr.Laxman Poudel, as a chief guest and SOMES president, Mr. Nabin Raj Chaulagain, as the chairperson, the event was successfully conducted with the active participation of 75+ enthusiastic participants.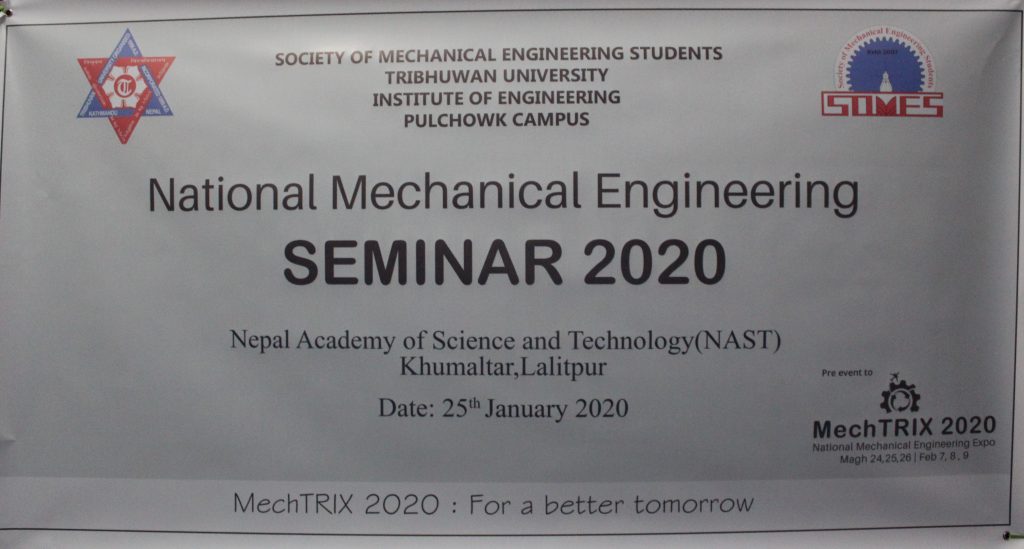 Welcoming the chairperson, chief guest, speakers and all the participants, the host for the Sandesh Parajuli, officially started the program. Our first speaker, Dr. Suresh Kumar Dhungel (Senior Technologist and spokesperson at NAST) was very excited to present engineering students about Nano-Technology. Pointing out "Waste isn't 'a waste' until it's wasted",Mr. Nabin Bikash Maharjan(CEO, Blue Waste to Value Pvt. Ltd) gave us insight on his company's projects on waste management through modern technology.
Matching the theme of upcoming exhibition 'MechTRIX 2020', For a Better Tomorrow, the foreign speaker, Mr.Joshua Menkie, and his topic of presentation 'Future Energy System ' made the event more profound. Very energetic speaker, Mr. Utsav Prasad Sharma, perfectly explained about safely, hazards and environmental health related to aircrafts. Breaking the monotonous note of only speaking and listening, a Q/A session was held at the end of every speaker. Asking of questions and clearing of doubts made the seminar more interactive and fruitful.
Co-ordinators, speaker, participants, and volunteers along with active support from SOMES members played important role in successful commencement of the event. The first major pre-event also provided us a platform to welcome everyone to MechTRIX 2020. So, book your dates on Magh 24, 25 and 26 and witness the thrill and excitement of MechTRIX 2020. 'Along with #VisitNepal2020, its #VisitMechTRIX2020.
Event Coverage by Helina Khanal