Jan 27th, 2018,
Society Of Mechanical Engineering Students(SOMES), IOE, Pulchowk, successfully organized the "1st International Symposium Control-, Energy- and Nano-Engineering (ISCEN)" with the motto "Mechanical Engineering: Engine for nation's prosperity" in National Academy of Science And Technology(NAST). The event was one of the two pre-events of MechTrix8.0, the 8th National Mechanical Exhibition, on the day, with 100s of students from undergraduate levels of various disciplines participating.
The event was formally initiated at 10 am following a brief overview by the coordinator Mr. Sulav Parajuli. It was then after the speech of the chief guest Prof. Dr. Tri Ratna Bajracharya, the program was continued with renowned Academician Er. Rishi Shah, NAST.
Prof. Dr. Rameshwar Adhikari from Research Centre for Applied Science and Technology (RECAST) presented on 'Nanotechnology: An opportunity for Nepal' where he compared the self-sustainability of Nepal in our past history with the current dependency of Nepal to foreign countries. Dr. Mahabir Pun from National Innovation Center (NIC) talked about his missions and visions in NIC and how students will get involved in it for their projects and technical and financial support. Then, Dr. Rabindra Dhaka, Senior Scientist, NAST presented on "Tacking Fuel Crisis by Managing Wastes" where he talked about bioenergy technology, biochar applications, waste management approaches, and plastics and pyrolysis.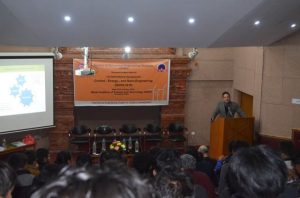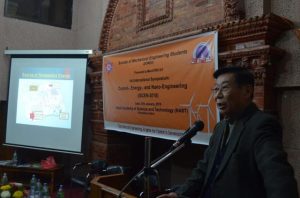 Dr. Since Raj Shakya from Center for Energy Studies, IOE, TU presented on "Role of R&D in RET Development" where he showed that the country's overall development and prosperity is directly dependent on the research and development of renewable energy technology, comparing the development charts of Nepal with foreign countries. Mr. Choon Dong Lee from NAST presented on "Renewable Energy Trend and Developed History or Korean Industries" where he talked about a hydropower system, solar power vehicles and new trends I development. Finally, Mr. Ippei Kashiwagi from Kathmandu University presented on "Mechanical Engineering Takes a Lead in Development of Laptop PCs and Tablets" where he said mechanical engineering is more focused to design of the structures of different household appliances and how collaborative networks of mechanical engineering is needed with different set of engineers of other fields other than mechanical engineering. He also showed how mechanical engineering is important for the different mechanical tests of electronic appliances like smartphones and laptops.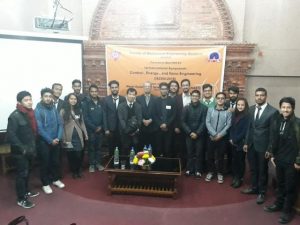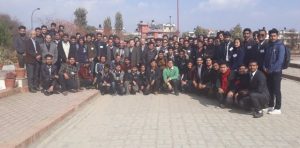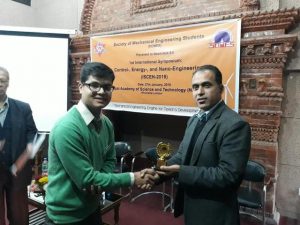 The successful completion of the event has set the tone for the biggest event of the year, MechTrix8.0
visit MechTrix8.0