MECH Talks-1
8 August 2018,

SOMES committee 2018/019 initiated the first of many talk programs entitled "MECH-talks" today at D-Hall, Department of Mechanical Engineering. The core idea behind the first session was to inspire students to take up extra- activities alongside their academic life. The session was themed "Engineering, Innovation and Entrepreneurship", which primary focus on Entrepreneurial practices, challenges and prospects of working on a start-up after graduation. MECH talks hosted speakers from the most up and coming startup companies from Nepal which included:
1. Er. Subash Neupane, Prokura Innovations
2. Er. Ashim Pandey and Er. Prabin Sherpaili, Yatri Motorcycle
3. Er. Amrit Adhikari, GRIT
4. Team Two-Wheeler Self Balancing Vehicle
The interactive session began with Er. Subash Neupane from Prokura innovations, who shared his experiences, problems and highlights of his journey and shared some insights into their projects and future plans. Er. Ashim Pan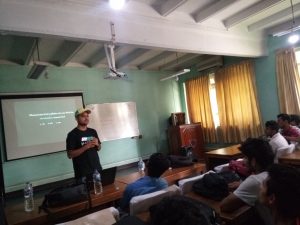 dey and Er. Prabin Sherpaili from Yatri Motorcycles talked about their up and coming e-motorcycles, the problems of the urban commute and the possibilities to fight against them. Further, they shared some of the intricate characteristics of their motorcycle and their future plans to make Urban commute pollution-free, noise-free, efficient and overall effective. Er. Amrit Adhikari, from GRIT, a recent graduate of DoME, pulchowk shared his experiences, past projects, problems of his journey. He also gave an insightful talk about skill development at an early age and proper utilization of free time to pursue entrepren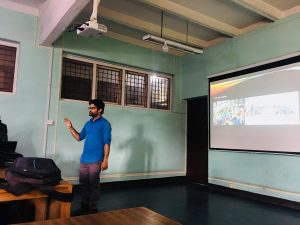 eurial practices.
Finally, students from 072BME involved in Two-wheeler self-balancing vehicle shared their experiences on working on the project.

One of the first sessions of Mech-talk was concluded with a hope to have inspired the attendees to take on similar measures to reach their goals and also opened possibilities for other similar programs in coming days.
Kudos to the team and Sunil Dahal, the coordinator of the event.