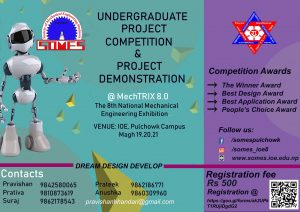 " The difference between the impossible and the possible lies in a person's determination ". There is nothing as powerful as the ability to create anything that can change the world. And all that you need to create such thing is determination, purpose and an opportunity .
So, here we present a wonderful opportunity to take part in the "Undergraduate Project Competition " and "Project Demonstration", the events at #MechTRIX 8.0, the 8th National Mechanical Engineering Exhibition, organized by SOMES to work together with amazing minds like yours to create a design that could possibly open doors towards a better future. The main motto of SOMES for organizing such events is to encourage the students to utilize …the local resources and build something productive that could show positive impacts and develop human life. All the people who come together in the event tend to share a common passion of using technologies to enhance the day to day living. So we heartly invite you for registering for the grand event.
REGISTER NOW at:
https://goo.gl/forms/ak2UPkT1RUjiDgdG2
When: Magh 19- Magh 21
Where: IOE, Pulchowk Campus
Eligibility criteria : Undergraduate level(For project Competetion)
Maximum no. of team members: 4
Registration fee: Rs. 500 per team
Theme of Competition: Free style theme
Awards for Competition: The Winner Award
Best Design Award
Best Application Award
People's Choice Award
The WINNER will be awarded with RS. 10000 cash prize.
FOR FURTHER DETAILS
Contacts:
Email: pravishanbhandari@gmail.com
Phone:
Pravishan Bhandari- 9842580065